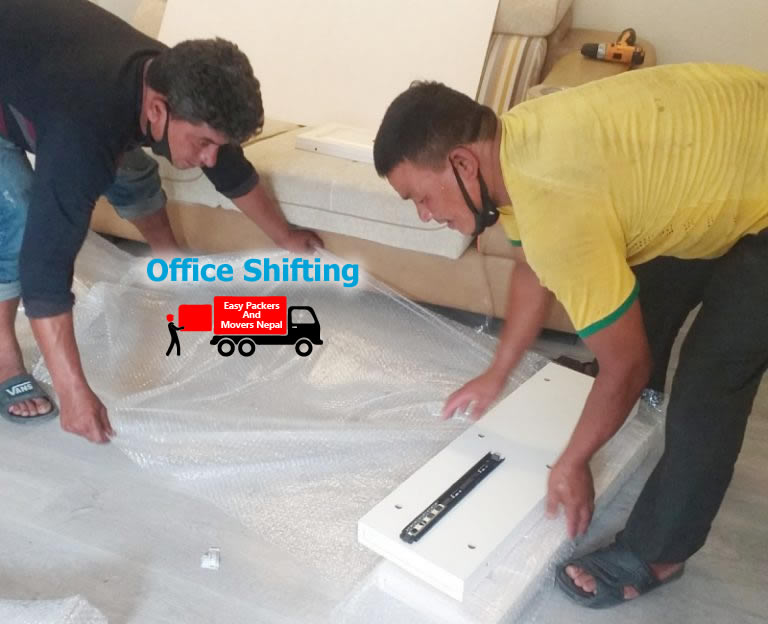 Easy Packers and Movers offers the best office and corporate moving service in Kathmandu and other places in Nepal. Our experienced and professional team experts in the secure packaging of computer monitors, tables, desks and partitions, as well as other things. We understand that office's possessions are extremely important. It is essential to have them relocated in a safe and secure manner. We at Office Shifting Services ensure that the entire process is smooth and without any problems for our customers.
Even heavy machinery and bulky office equipment can be easily and safely transported using our well-maintained and spacious carriers.
Office Shifting Services
Office Shifting Services has a experienced team that manages the entire process with complete security and care. To prevent any damages in the process of shipping, the packing loading, unloading, and packing are handled with extreme caution. All the way through Our professionals are always on the lookout and alert. They create a checklist of things to do and record them both before and after the removal.
We will always guarantee a perfect commercial and office relocation, whether it's a house, a inventory, building or any other office equipment or items. We'll be able to meet your needs regardless of whether you're a small company or a big corporation traveling across the nation. We're aware that when the scope of your move grows as does the amount of anxiety and issues you'll need to face before you're able to settle at your new home also.
Prior to the move the team performs an inspection of the site and an investigation of the road. We are aware of the importance and value of office items and do all to ensure that the transition is as smooth as we can for you. We put a lot of emphasis in meeting the requirements of our customers. Customers are able to request a warehouse or road survey. This makes us totally reliable and reliable.
We have been trained and are able to relocate and rearrange the various types of office equipment furniture, computers high-end servers documents, files as well as electronic equipment in a speedy and easy way. Our services include anti-static packaging, HD vacuum packaging and custom crating of which can be found all under one roof.
The most reliable packers and movers are the best way to move your corporate items. Easy packers and movers has an experienced level of resources and the latest technology to deal with the corporate relocation. Our professionals understands the requirements of the client and provides the right relocation service. The best quality materials are used to pack. We make sure that the electronics and furniture will never be damaged during the moving time.
Every single paper and documents is the riches of an organization. You cannot even think of the loss of any documents. We guarantee the best packing and ensure that the documents' delivery without any misplaced documents. We provide professional and seamless removal services.
We are able to work efficiently and efficiently. We're always prepared to offer an efficient shifting service , with a good employee mobility.
Contact us for a free quote. Our customer support is always available to answer all your questions. Be sure to mention your needs and request free estimates for moving services. We will provide the best shifting and moving service at a an affordable and reasonable price. We guarantee the highest quality service.